Wedding Cakes – Our Specialty
The JCakes Wedding Cake Order Process
Please be aware we will resume private tasting appointments on Saturday, May 30th. These appointments will occur outdoors with disposable utensils and plates. We also offer tasting plates to-go with curbside pickup. Cake designs and pricing discussions can be achieved over phone/email/facetime or zoom chats. Please send cake inspiration and availability to orders@jcakes.com to schedule an appointment.
JCakes invites you and your fiancé to a complimentary wedding cake tasting and consultation. Tastings are scheduled by appointment Tuesday through Saturday and last about thirty minutes. We offer late night appointments on Tuesdays. The complimentary tasting includes a slice of golden layer cake, a slice of chocolate devil's food cake, and many samples of our fillings. During the appointment you can create your own flavor combinations and discuss design ideas and pricing.
Most cake details can be determined during the first consultation. If a second design session or tasting is needed, a $35.00 charge is incurred. From experience, it is easier to design a wedding cake once color schemes, linens, and floral arrangements have been arranged. Please feel free to bring color swatches, photos, names of the flowers in your centerpieces and florist and photographer contact information. We ask that no more than two people attend the tasting appointment.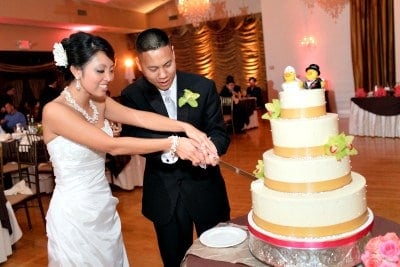 Schedule Your Tasting
One of our specialists will contact you to schedule a tasting appointment and/or answer any questions you may have.