JCakes Cupcakes – "little bites of heaven!"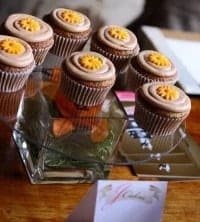 Our cupcakes are a bit different than most:
we fill them with our homemade, hand whipped fillings.
You'll be amazed at the reactions of your guests when they take a bite of a JCakes Cupcake. Watch their faces for the surprise and delight as they savor fresh mousse in the center!
Most of our cake flavors can be made into standard sized cupcakes. Special order flavors other than the ones listed below require a minimum order of 12 cupcakes.
We are fully booked for cake and cupcake orders until June 29th. We apologize for any inconvenience.
Here are a few of our best sellers!
Placing your order in advance is best – but if you have a craving and need a quick fix.. we normally carry 9 flavors in our shop for walk-ins!
Standard Cupcakes are $3.50 each. One Dozen is $39.00. Custom cupcakes are available at an additional charge – you dream it, we bake it!