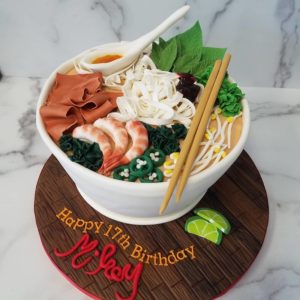 JCakes has been nominated! by Amazing Cake Ideas ,"Designer of the World's Super Exquisite Cakes". Our big bowl of Pho soup are one of the cakes in the running. We have to give a big shout out to one of our wonderful employees, Sue who had a big hand in creating the amazing fondant work on this cake.
Since JCakes has been nominated, our team would greatly appreciate if you could vote for us. How to Vote? You can vote for us here, it is cake number 15 and you can click the "vote" button below the image to place your entry. Once Again the team at JCakes wants to thank you, if you take the time to vote for our cake in this contest. We would also like to thank Amazing cake ideas for nominating us!
We wish everyone involved in this contest the best of luck!