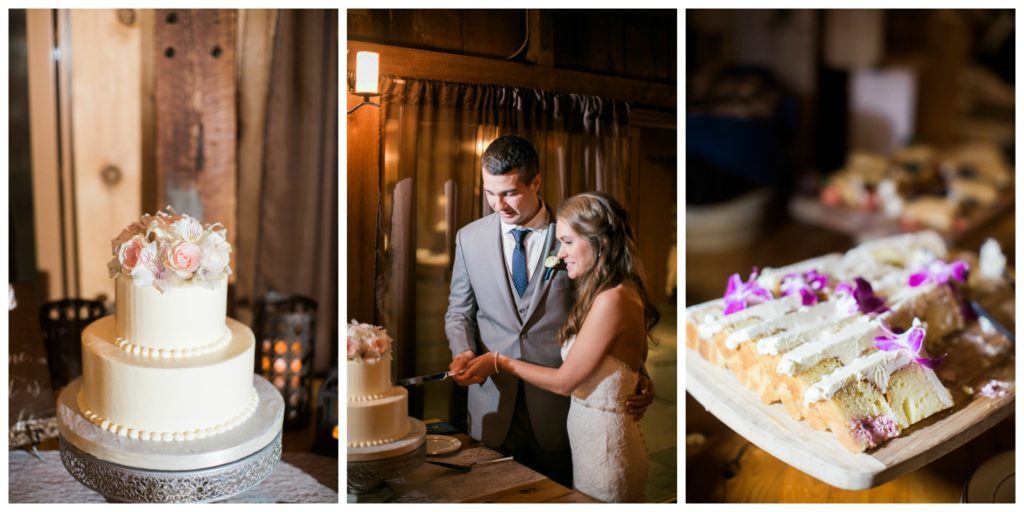 Photos Courtesy of Alicia Ann Photographers
A growing trend for weddings is having a dessert table with a variety of options for guests to choose from — from cake to doughnuts and pie to ice cream, the possibilities are endless.
The dessert industry is constantly evolving and, while JCakes prides itself on keeping up with the latest cake trends, we respect the fact that people may want something different for their wedding. A simple, small, two-tier cake is a great way to incorporate a bit of wedding tradition into a more modern dessert display.
There's still a beautiful, elegant tiered cake to display and cut for photos, and there are some servings for those die-hard cake fans, but you don't have all the formality of a plated slice of cake for each guest. Everybody gets what they want! That's exactly what Lori and Taylor had for their Barns at Wesleyan Hills wedding — a simple golden cake with mixed berry filling, frosted smooth with vanilla buttercream and accented with fresh flowers. They got to take some wonderful, fun photos, and their guest got to enjoy a variety of dessert options.