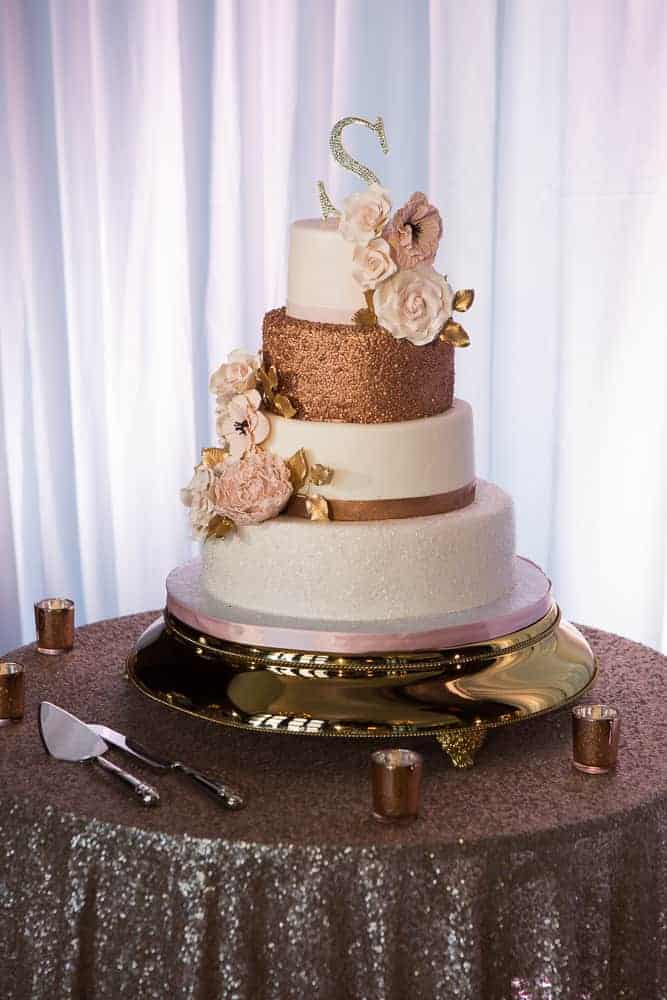 Savannah's sweet 16 was over-the-top, and we loved being a part of it! Branford House was the perfect venue to bring this fun concept to life, and this light and bright cake was the perfect contrast against the building's dark walls.
All four tiers featured funfetti cake with cannoli filling. It was a great step out of the traditional golden cake and fit well with a sweet 16.
This cake showcased a different design on each tier, which made every detail pop. The top and third tiers were covered in white fondant, and accented with a pale pink and rose gold fondant ribbon. The second tier was covered entirely in edible rose gold sequins, while the bottom tier was covered in edible glitter flakes. To tie all four tiers together, the cake was accented with light pink roses, anemones, and gold leaves made of sugar. Fun fact: one of the flowers actually caught fire from the candles (which can be seen below), but the birthday girl thought it was hysterical!
Make sure you watch the video below to see just how magical this event was!
Photography by Perceptions Photography
Videography by Barnberry Productions
Event Planning by Creative Concepts by Lisa