This year, give your family something sweet to be thankful for – JCakes Pumpkin Spice Cake. This once-a-year specialty is filled with Cinnamon Cream Cheese filling and frosted with Cinnamon French Buttercream. It comes expertly decorated with fresh flowers and chocolate acorns.
8" Round (12 servings) – $45.00
10" Round (18 servings) – $60.00
But that's not all! We're also featuring seasonal cupcakes!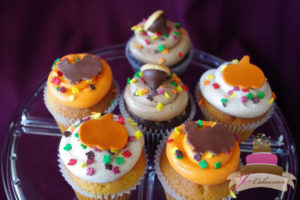 Try something different for Thanksgiving! White Chocolate, Chocolate Mousse, and Pumpkin Spice Cupcakes garnished with fondant pumpkins, fondant turkeys and chocolate acorns!
$3.50 Each

Please place your order by Sunday, November 24th
Pick-Up Hours for Wednesday, November 27th are 9 a.m. to 6 p.m.