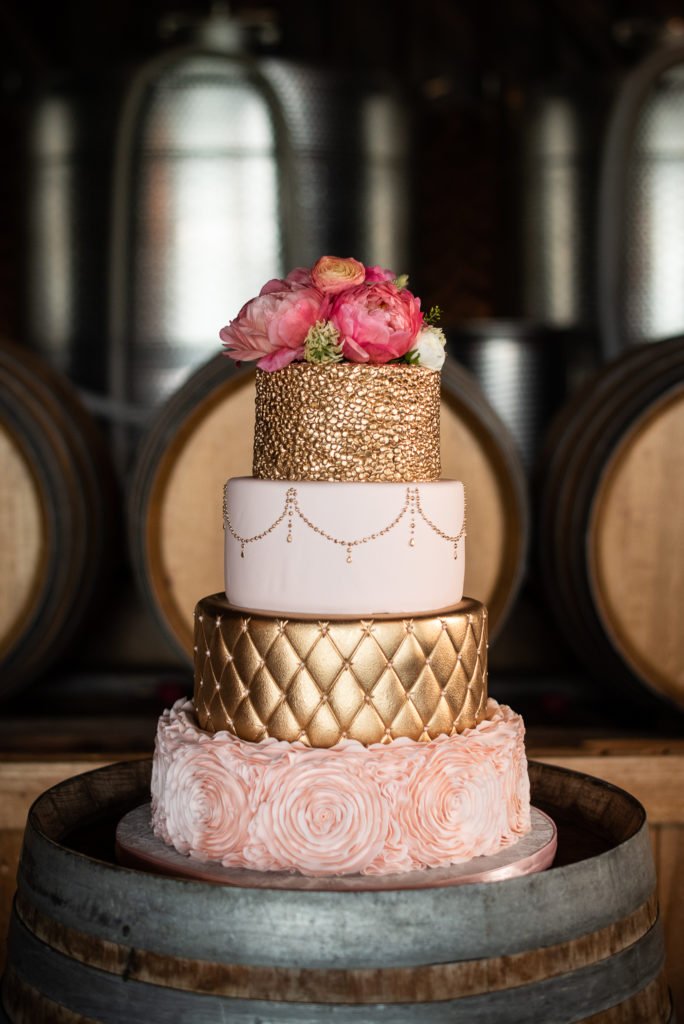 Photos Courtesy of Bryan Avigne Photography
Michele and John came in with a vision — a stunning, 4-tier, fondant-covered cake with blush pink and metallic gold accents. JCakes took their vision and brought this one-of-a-kind design to life!
It started with delicious cakes and hand-whipped fillings. Each tier was its own scrumptious flavor: Chocolate Devil's Food Cake with Mocha Buttercream filling, Golden Cake with Chocolate Mousse filling, Chocolate Devil's Food Cake with Cannoli filling, and Golden Cake with White Chocolate Mixed Berry filling.
Then came the handmade, placed, piped, and painted decorations. The bottom tier was accented with ruffled flowers made out of strips of thin fondant, the second tier was accented with metallic gold fondant quilting, the third tier was covered in blush fondant and accented with piped gold swags, and the top tier was accented with gold sequins fondant. The top of the cake was then accented with stunning fresh peonies and ranunculus from Flower Belle Boutique in Mystic, CT.
This cake was sure to wow their guests at Saltwater Farm Vineyard and complement their menu from A Thyme to Cook Catering.