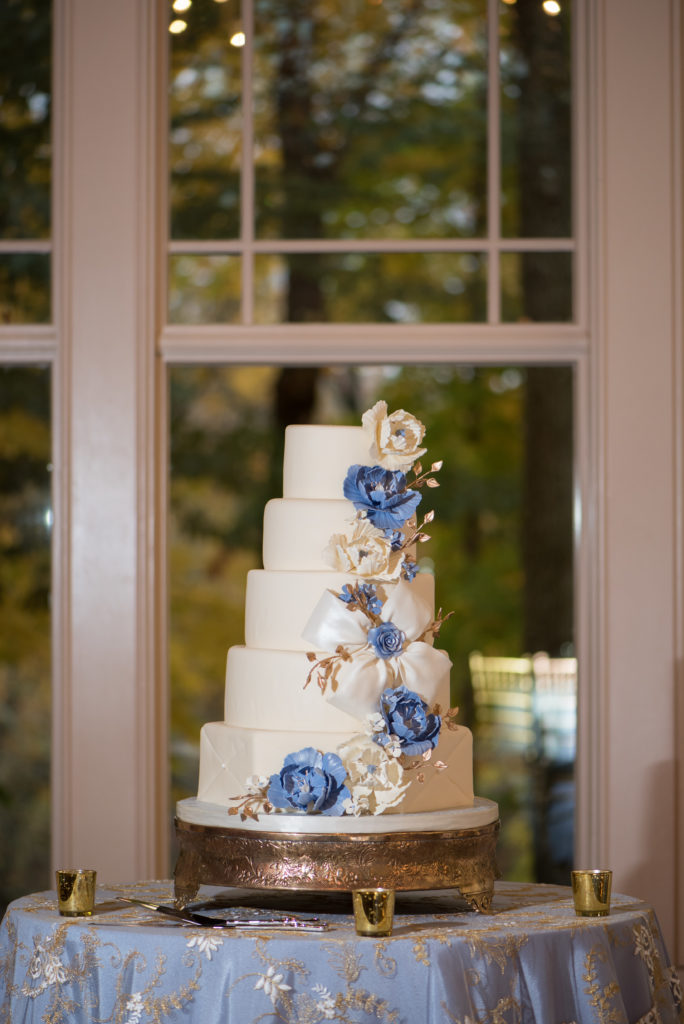 Lindsay and Andy's five tier wedding cake was simple in color palette, but the small details truly made this cake a show stopper! The couple tied the knot on a gorgeous October day, and the Riverview's floor-to-ceiling windows made the perfect backdrop for this one of a kind cake.
The first four tiers were round while the bottom tier featured a hexagonal shape. The entire cake was covered in a soft ivory fondant, and the bottom featured a simple quilted design to add a small touch of texture. Ivory and light blue sugar flowers were placed in a cascade down the front of the cake, and were accented with gold leaves and an ivory fondant bow. These little pops of color were exactly what the cake needed!
Lindsay and Andy offered a variety of cake flavors and fillings for guests to choose from. The top and bottom tiers were spice cake with cinnamon cream cheese frosting, while the second and third tiers were golden cake with mixed berry filling. Finally, the fourth tier was a chocolate cake with Oreo filling.
A gorgeous cake for a gorgeous couple!
Photography by JC Carley Photography
Wedding Planning by Creative Concepts by Lisa